1. Chemical product and company logo
Chemical Name: Lycopene (Lycopene)
2. Hazard identification
Lycopene is generally considered safe, but excessive intake or certain circumstances may cause adverse reactions.
3. Composition/Ingredient Information
Main ingredient: Lycopene (Lycopene) Chemical formula: C40H56CAS number: 502-65-8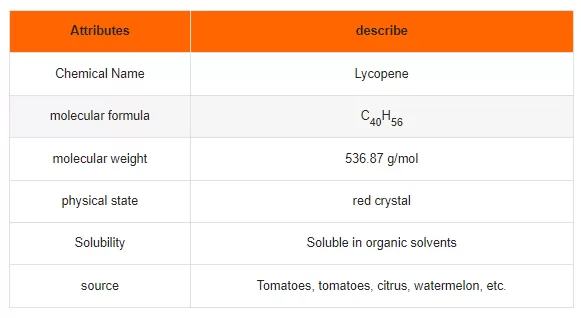 4. First aid measures
EYE CONTACT: Flush immediately with plenty of water for at least 15 minutes and seek medical attention if necessary. Skin Contact: Wash with plenty of water and soap. In case of irritation, get medical advice.
5. Firefighting measures
Suitable Extinguishing Media: Dry chemical, carbon dioxide, water spray, foam. Special risks: Toxic fumes may be evolved when heated or exposed to fire.
6. Spill emergency treatment
Avoid contact with skin and eyes, use appropriate protection. Absorb with sand or other non-combustible material, then collect in airtight containers.
7. Operation and storage
Keep in a dry, cool, well-ventilated place, away from fire and heat sources. Make sure the container is well sealed.
8. Exposure limits and protective measures
Use chemical barrier gloves, goggles or face shield, and appropriate respirator.
9. Physical and chemical properties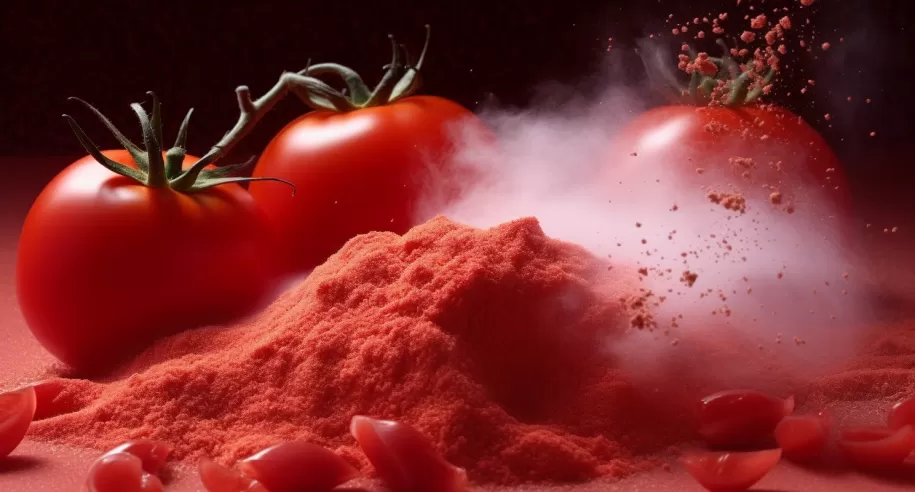 Appearance: dark red powder Melting point/freezing point: -63°C Boiling point: 660.9°C at 760 mmHg Solubility: insoluble in water
10. Stability and reactivity
Lycopene is stable under normal storage and handling conditions. Avoid contact with oxidants.
11. Toxicological Information
Long-term excessive intake may cause skin discoloration, but usually does not cause serious health problems.
12. Ecological information
Lycopene is a naturally occurring compound with relatively low environmental impact. Please note that this MSDS is only a simplified version, for specific details and other information, please refer to the official Material Safety Data Sheet orRelated product page.