On the morning of September 11, a group of more than 80 teachers and students from the School of Bioengineering of Zhejiang University of Technology came to our company for a visit and study under the leadership of Professor Wang Yuanshan. The leaders of relevant departments of the company gave a warm reception.
Company Profile
Hangzhou Tianqu Biotechnology Co., Ltd. is a national high-tech enterprise specializing in the research, development and production of natural functional red yeast rice and related products. First of all, Wu Yongyuan, deputy general manager of Tianqu Biology, introduced the company's basic situation, corporate culture, products and development prospects in detail.

heng Wenhui, general manager of Tianqu Biology, warmly welcomed the arrival of the students, and hoped that the students could take advantage of this internship opportunity to apply theory to practice, continuously improve themselves, and make more contributions to society.
Later, under the leadership of Wu Yongyuan, the company's deputy general manager, teachers and students entered the red yeast rice workshop to visit the production site together. Manager Wu gave a detailed explanation of the red yeast rice fermentation workshop, shaker workshop, microbiology room, strain selection room and its supporting facilities; at the same time, he patiently answered the questions raised by the students, encouraged them to participate more in practice, and combined theory and practice , the scene is warm and harmonious.
✔ Visit the red yeast rice fermentation workshop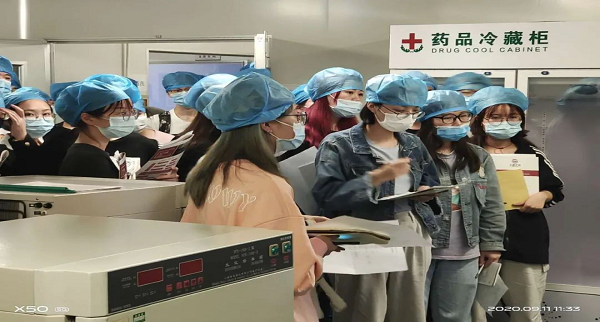 ✔Visit the microbiology room and the strain selection room, and check the culture of the strains
The School of Bioengineering of Zhejiang University of Technology expressed its sincere gratitude to the company for providing this internship opportunity. It is deeply satisfied with the successful completion of this meeting and looks forward to more similar activities. After the meeting, the two parties signed the "School-Enterprise Cooperation Internship Base Agreement" to deepen the content of school-enterprise cooperation and achieve mutual benefit and win-win results.
This event further broadened the horizons and knowledge of the students, and prompted them to think more about their own study and future career planning. As the teaching practice base of the School of Bioengineering of Zhejiang University of Technology, our company continuously strengthens school-enterprise cooperation, school-enterprise development, school-enterprise win-win, pays attention to personnel training, strengthens the organic combination of theory and practice, and promotes the deep integration of industry, education and research.