Senna Leaf Extract, derived from the leaves of the Senna plant, has been used for centuries as a natural remedy for various health concerns, particularly digestive issues. At Hangzhou GreenSky Biological Technology, we provide high-quality Senna Leaf Extract with an 8% concentration to cater to your health and wellness needs. In this article, we will explore the health benefits, potential side effects, and applications of Senna Leaf Extract 8%, showcasing how this potent herbal remedy can support your well-being.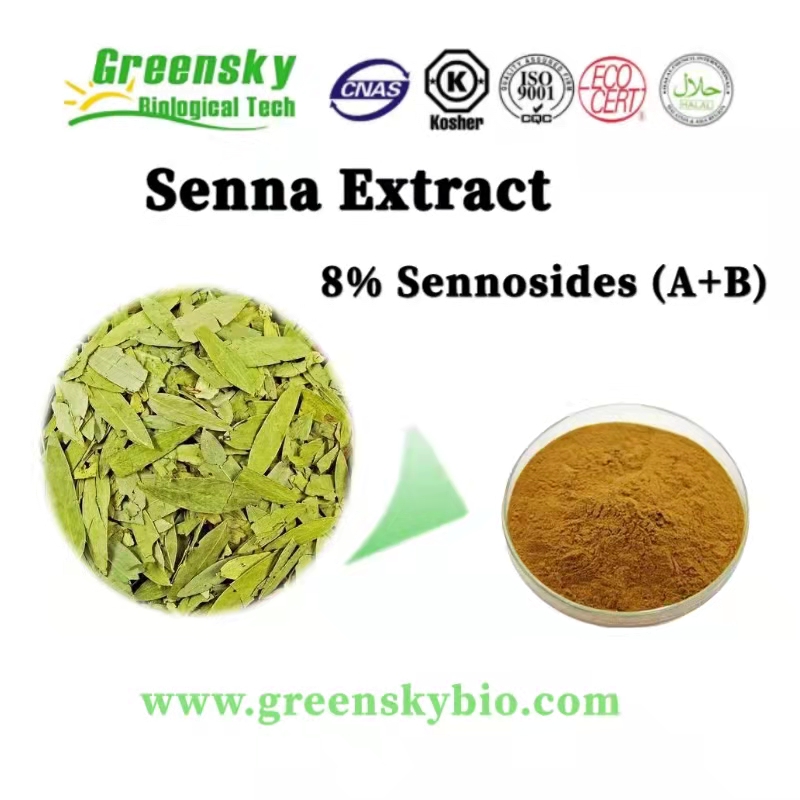 Health Benefits of Senna Leaf Extract 8%
1. Natural Laxative: Senna Leaf Extract is well-known for its natural laxative properties, which can provide relief from constipation and promote regular bowel movements.
2. Colon Cleansing: Senna Leaf Extract is often used in detoxification and colon cleansing programs to help remove accumulated waste and toxins from the colon, promoting digestive health.
3. Weight Loss Aid: By promoting regular bowel movements and colon cleansing, Senna Leaf Extract can aid in weight loss by eliminating excess waste and preventing bloating.
4. Anti-inflammatory Properties: Senna Leaf Extract has been found to possess anti-inflammatory properties, which may help alleviate inflammation and discomfort associated with various gastrointestinal conditions.
Applications of Senna Leaf Extract 8%
Senna Leaf Extract 8% can be utilized in a variety of health and wellness applications, including:
1. Dietary Supplements: Senna Leaf Extract can be used as an active ingredient in dietary supplements designed to promote digestive health, relieve constipation, and support weight loss